Snowing in Summer by the CTC
23 Dec 2000, Jubilee Hall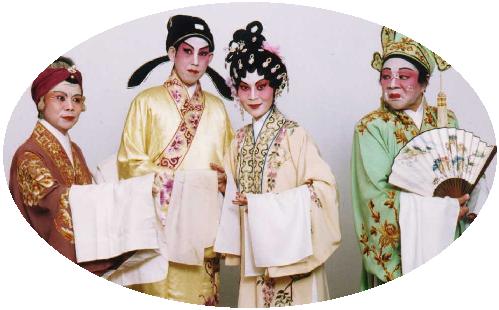 Chan Kwei Lin
Mary Leong
Chan Mei Ling
Ellen Li















Snowing in June was a modest production. There were no background sceneries and throughout the whole show there were only a few pieces of furniture and some props. Hence, the changes of scenes were fast. Mary Leong and Chan Mei Ling were doing their first lead roles in a full-length opera. They performed creditably. Mei Ling, who performed in the first three scenes only, looked a bit tense. Mary, more experienced, was more relaxed. Seetho Hoi Siang replaced Mei Ling from the fourth scene onwards. She looked rather well-fed in the poverty-stricken family.

Chan Kwei Lin also put up a creditable performance as Dou Er's mother-in-law trying to 'force' Dou Er to remarry. Ellen Li who played Zhang Lu Er, another main character and a villian, provided much laughter with his hilarious acting and witty lines. Another comic role providing homour was the corrupt magistrate played by the usually serious-looking, straight-faced Cheong Siu Wai.

In the final scene, the 'Judge' (Dou Er's husband) could have asked his guards to take away the two minor characters who were found guilty in the first case before carrying on with the second case, also involving Zhang Lu Er. Instead, they got up from their kneeling positions on their own and just stood around while the proceedings were still going on. Shouldn't they still be kneeling down?
frannxis, 24-12-2000
(If you have any comments, you are welcome to write in the guestbook.)