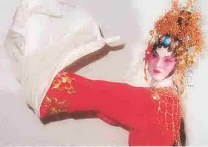 Peng Mun is the only male artiste who performs the the 'hua dan' (female) role. He is unique; there are no other contemporary female impersonators in the cantonese opera circle whether in Singapore or elsewhere. His style of singing is similar to that of the legendary Hong Seen Lui. If you see him dressed as the ancient beauty Wang Zhaojun cradling the pipa and singing the famous Hong Seen Lui classic "Zhaojun Crosses The Border", you will be amazed that a man could be so womanly. His most memorable roles are those of tragic maidens such as Jiu kwei-ying in "Thrashing the Sea God" and Wang Bao-chuan in "Peng Kwei bids his wife farewell".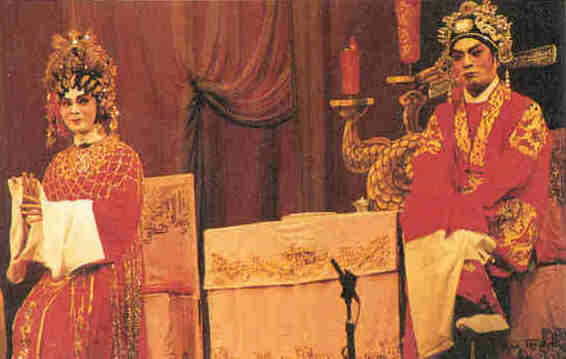 He became interested in opera when he was young and began to perform in his early twenties. He had an affinity for Hong Seen Lui. In 1984 when Hong's troupe was here, Hong saw Peng Mun perform and was impressed. She agreed to guide him in the finer points of the art should he visit Guangzhou. The following year he left for Guangzhou eagerly. He was not disappointed; he gained much from Hong's coaching. In 1994 Peng Mun went to Guangzhou on a training grant by the National Arts Council. He studied under a Master Liu who was recommended by Hong.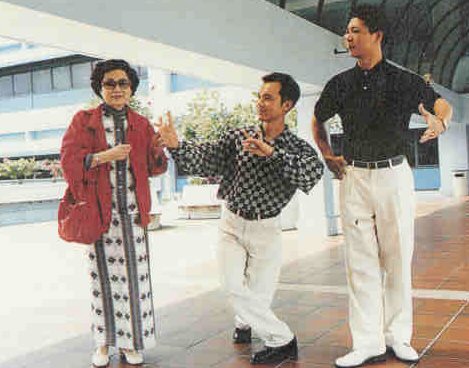 In 1996 he was the first artiste featured in the Young Opera Artistes Series, a project of the Chinese Opera Society, Singapore. In recent years he was more involved in helping out in opera productions and other opera-related work rather than in performing.