Go to the Singapore Chinese Orchestra's website (listed in Links) for more information about the orchestra, performances, etc.
These are brief information of some musicians of the Singapore Chinese Orchestra.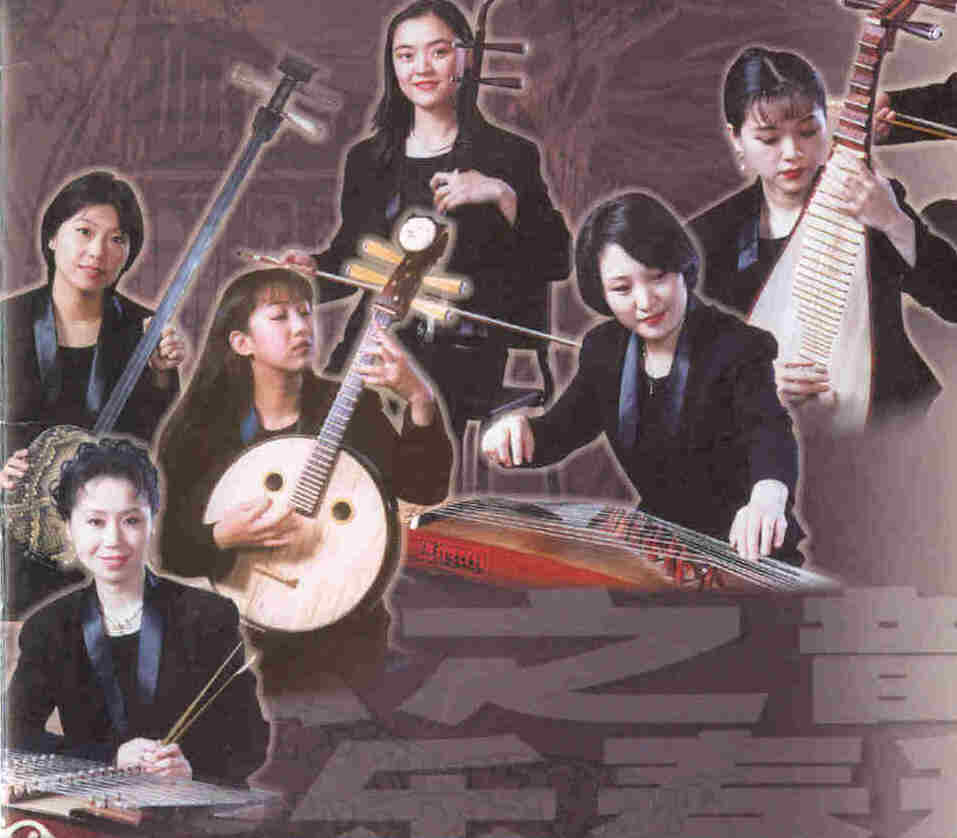 From left, clockwise:

Sanxian - Huang Gui Fang
Erhu - Xu Wen Jing
Pipa - Yu Jia
Guzheng - Xiong Yue
Zhongruan - Zhang Rong Hui
Yangqin - Qu Jian Qing







Sanxian - Huang Gui Fang

Gui Fang was born in Shanghai. After graduating from the Shanghai Conservatory of Music in 1986, she joined the experimentary orchestra . She learnt sanxian from a renowned sanxian performer, professor Xian Jian Sheng. In 1995 she won the gold medal in the sanxian section in the China International Chinese Instrumental Music competition. Gui Fang has performed in America, Japan, Canada, Germany, France, The Philippines and Korea. She joined the SCO in 1997. She played the sanxian as well as the ruan in the orchestra.
Erhu - Xu Wen Jing

Wen Jing started learning erhu at the age of 5. In 1982, she gained entry to theTianjin Conservatory of Music and then in 1989, she entered the Central Concervatory of Music. Upon graduation she joined the China Broadcasting Chinese Orchestra as an erhu player. She has won several awards in numerous music competitions. She plays the erhu in the SCO.
Pipa - Yu Jia

Click here to go to Yu Jia's Homepage.
Yu Jia was born in a family of music talents. She started learning the pipa and the piano at the age of four from her father Yu Song Lin. She entered the Central Conservatory of Music in 1993. She studied under Professors Li Guang Hua, Liu De Hai and Lin Shi Cheng. She has won several awards in the pipa section in prestigious competitions and has taken part in numerous art festivals and other events. She has performed in Singapore, Malaysia, Japan and Taiwan. In 1997 she graduated from the Conservatory with a degree. She joined the SCO in 1997 and is the pipa sectional principal.
In May 1999 she was second (pipa section) in the 7th Chinese Classical Musical Instrument Competition held in Taiwan.
Away from her homeland, she communicates with her parents and good friends in China through the internet. Keeping her company in a foreign land is her little pet dog.

Guzheng - Xiong Yue

Xiong Yue developed her love for music when she was young. She studied guzheng under famous guzheng performers. In 1976 she entered the China Broadcasting Chinese Orchestra as a soloist. Since the 80s she has performed overseas frequently.
Zhongruan - Zhang Rong Hui

Rong Hui was born in Xian. She studied ruan under associate professor Ning Yong in the secondary school of Xian Conservatory of Music in 1985. In 1991 she entered the China Conservatory of Music. After graduating she served in the China Central Song & Dance Troupe as a ruan soloist. She has performed in Hong Kong and Japan.
Yangqin - Qu Jian Qing
Jian Qing gained admission into the prestigious Shanghai Chinese Orchestra at the age of 13 with her excellent music achievements. Over the years, she bagged numerous awards. From 1978 to 1994 she was a soloist and Yangqin principal of the Shanghai Chinese Orchestra. Currently she is thr yangqin sectional principal of the SCO.
Besides performing, Jian Qing also conducts music lessons. It gives her great satifaction seeing her students perform well in concerts.